Our Story
NEW – We are proud to announce our new digital marketing partner.

Together we provide the BEST solutions to bring you New Customers…Help Keep your Existing Customers…and Get your Existing Customers to come back more often…ALL-IN-ONE!
NO "NEED" FOR ANY OTHER ADVERTISING! NOTHING COMPARES IN TRACKABLE RESULTS AND VALUE! ALL DONE 4 YOU!
---
Our Mission: To help restaurants and retailers make the MOST – FOR LESS – TURN-KEY - TRACKABLY
Over 20 years ago…The Founder Tony LePera purchased, tested, and wasted countless dollars with virtually every type of advertising. This motivated him to create "NEW NICHE" solutions and start our parent company LePera Marketing in Sioux Falls, SD back in 1996! Creative Gift Card Marketing and Welcome Neighbor New Movers were founded then. Birthdays 4 Business has invited MILLIONS of Birthday Groups to Restaurants and Retailers since 2004.
He set out to pioneer "niche" Internal and Outside Advertising strategies that did work that could be verified. Because both types are crucial to grow the most!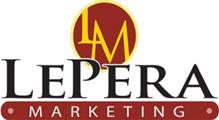 He was tired of most advertising rarely working and not being able to accurately track Return on Investment other than one year vs the previous, which has too many variables to be accurate.
Coupon Sales were somewhat trackable but you couldn't verify whether those were "additional" sales or "lost margin" sales! He knows what it's like to put your company or personal name "in lights" with Electronic Media and Billboards, but let him explain this true "cost of fame" to you! LOL Seeing your company name only isn't enough to motivate NEW Customers or previously dissatisfied customers to visit you!
The following Proven Successful NICHE Programs we pioneered that you see on our website have been HUGE Homerun Solutions! Many of our customers have SAVED THOUSANDS by discontinuing ALL their other "OUTSIDE ADVERTISING" once they try it and invite everyone within their CORE Target Demographic Circle!
Our Revolutionary NetPro™ Tracking System has allowed us & our customers to learn "NEW" data to accurately assess marketing evaluations like never before while obtaining customer feedback for operational improvements at the same time! Even National Companies are amazed! The knowledge obtained from these Data Results has been "shocking"…and literally is "changing" the way overall advertising and marketing is evaluated today! The owner Tony LePera has been written up in Trade magazines and published/recorded a CD Titled: The Ultimate Marketing Plan for Restaurants back in 2012.
---
Founder, Tony LePera, has developed multiple marketing strategies that are incredibly affordable and work amazingly at driving new customers to your establishment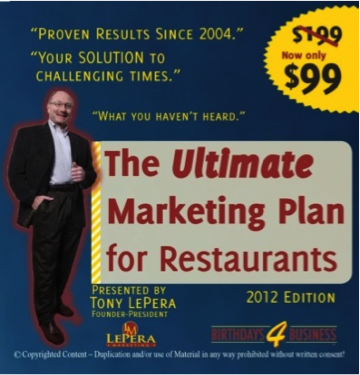 Includes Secret Marketing Tips you Haven't Heard!
Ask us for a FREE copy!
TREE TRUNK THEORY ON HOME PAGE: Watch this short slide show the owner Created. It's Invaluable! With all the hundreds of options out there for advertising and marketing today…it's very important to understand the difference in CORE Business Foundation Marketing vs Promotional Marketing. He says this should be your starting point for evaluating any and all advertising and marketing. Then know how to make the MOST for LESS in both categories which is what we specialize in. We will help you whether you invest with us or not. Join my FREE e-mail club on the home page. BECAUSE WE CARE! We enjoy helping all sizes of Restaurants and Retailers! We don't make money unless you do which is the way it should be! It would be a privilege to have the opportunity to earn your business!