Why Us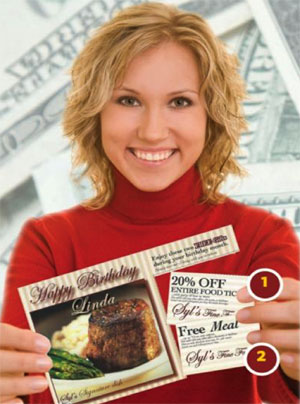 WE DO IT ALL FOR YOU!
OUR PROGRAM HAS PROVEN TO GROW SOME RESTAURANTS' OVERALL ANNUAL SALES 5% TO 25%!
Our Proprietary One-of-a-Kind 32 Point Tracking System is unlike anything else on the market. Therefore, we will do an Initial Extensive NetPro™ Evaluation with you personally after your first months' trial, to understand how to evaluate and compare the results.

We GUARANTEE you to yield a Higher Return on Investment for New and Re-Newed Faces Responding than any other form of OUTSIDE ADVERTISING or give you 110% of the difference! Requirement: Must be able to verify sales are not from your existing Regular customers using our NetPro™ Tracking System Formulas to Accurately Compare – Ask for details.

Since 2004 we have Extensively Tested and Established Special Formulas to Recommend the BEST offers and content that will yield the Highest Return on Investment using the Lowest Discounts possible to drive in New Faces.
With our service. your Investment per Birthday mailer is up to 3x lower than others, not counting the Expertise and Tracking capabilities.
100% Cash Flow - Collect your additional sales before paying for Investment with Credit Card (optional)!
We Provide Server Training Support to get them excited about the EXTRA Tips they will be making!